While walking on the streets of Mexico City,  it is really common to feel in another time, like if you were in a not so long yet not so close past; and the reason why is that true artist still exist, best known as organilleros a tradition that does not disappear.
Thanks to our traditional culture that become heritage, from generations in Mexico City's streets, as well as in other cities of the Mexican Republic.
The Organ (an instrument used by organilleros) came from north Europe, brought to Mexico by German immigrants around 1880.
Organs' production in Germany stopped around the 1930s, in that year a lot of people purchased around 250 organs to keep that job alive.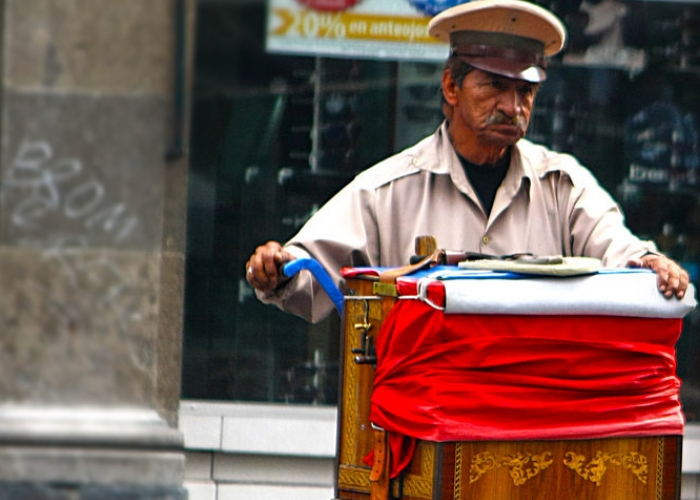 The born of a new generation or organilleros
According to its union leader, now there are more organilleros than in the last 30 years.
"There has been about 500 organilleros, due to the lack of work opportunities in other sectors of the economy. Some decades ago, when the job started, it started with 350 people" Luis Román Dichi Lara, the union leader said.
The competition has multiplied
Currently there are rap dancers, mimes, movie characters, artisans and beggars, all competing against each other to earn some money from passers-by, and what is worse, there are super heroes as well.
A tradition that we should keep
The organillero has been a font of inspiration for musicians and film-makers, because besides having an unmistakable sound, when you walk through the city, or stop our car in any traffic light we have the privilege to listen to a beautiful melody of any kind and time.
Like this, there are many jobs that has years of existence and that we should help to be alive, because they become part of our history and distinguish us from the whole world.
Have you ever thought about hiring the services of an organillero for your next party? Download TinkerLink and you will find someone offering its services o you can also reach with thousands of Tinkers that can recommend you the right one.
* [vc_column][ultimate_info_banner banner_desc="You might be interested: Book cover, the best invention for the Back to School" button_text="Read Now" button_link="url:%2Fforrar-libros-para-el-back-to-school%2F|||" info_effect="fadeIn" button_color="#9c27b0″ button_border_width="1″][/vc_column]