The Mexican Gil Mendoza is a male seamstress that works at full gas at a factory so the designers could take their creations on time to the New York City's Fashion Week.
Mendoza has been working for ten years in one of these factories, next to other Mexican and Ecuatorian that are in charge of different roles from sewing, to iron the pieces the designers proudly show the day which Fashion Week is celebrated, as well as cleaning chores.
But, before models go through the cat walk de dozen of patronists and seamstress dedicate long hours in the cut or sewing tables in the fashion districts and between them Gil is located.
"For me this week is really exciting I love my job, said Mendoza 40 years old".
Besides sewing he delegates the work within seamstresses and supervise them all the time "the way the designers want".
He explains that sometimes his team and himself, arrive to the atelier with the patterns of the things they are gonna sew and some have to cut the pieces according to the drawing the designers have already made, which is the hardest part.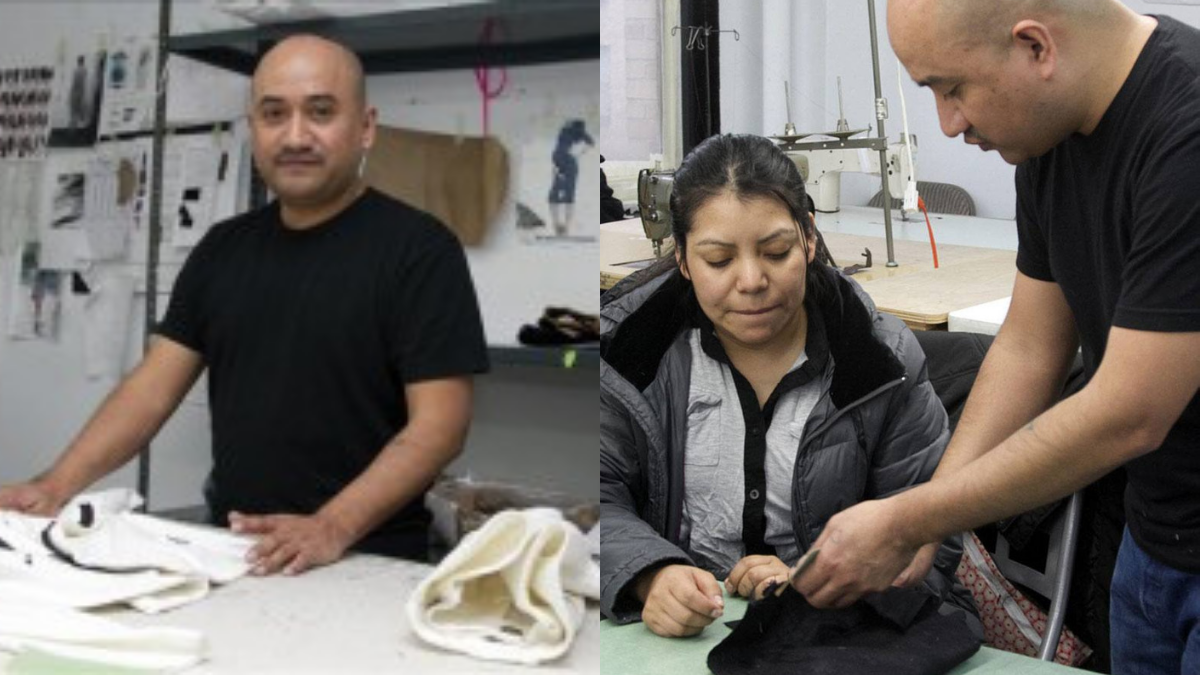 Picture by El Universo
The beginning of Mendoza in the sewing industry
Mendoza is an autodidact type of person he has never taken any sewing course. He learned the sewing technique when he was a child, at his home, where there was a single sewing machine even though no one knew how to sew.
"I learned how to sew when I was eight years old. I liked it: I made my backpacks for school, and fix the school uniforms, Mendoza remembered, before coming to New York I used to sew bags and other leader things for women in Mexico".
In New York he started as any other immigrant, washing the dishes, as a worker in construction, and as a baker, he came to the atelier thanks to a job agency.
During the whole year in the place where he has an atelier, he sew many pieces from many designers, Mexican Cesar Galindo between them, who make all the creations (at that atelier) that later takes to the runaway, as always has been made in every edition of these fashion event with pieces that went through Mendoza's and other immigrants' hands.
Picture by  Zimbio
If you want to have clothes made to fit you and only you, we recommend you to choose a creative male or regular seamstress whom you can only find him/her if you download TinkerLink for free!
[vc_column][ultimate_info_banner banner_desc="You might be interested in: The Elotero that adapted to technology" button_text="Leer ahora" button_link="url:%2Fthe-elotero-that-adapted-to-technology%2F|||" info_effect="fadeIn" button_color="#9c27b0″ button_border_width="1″][/vc_column]